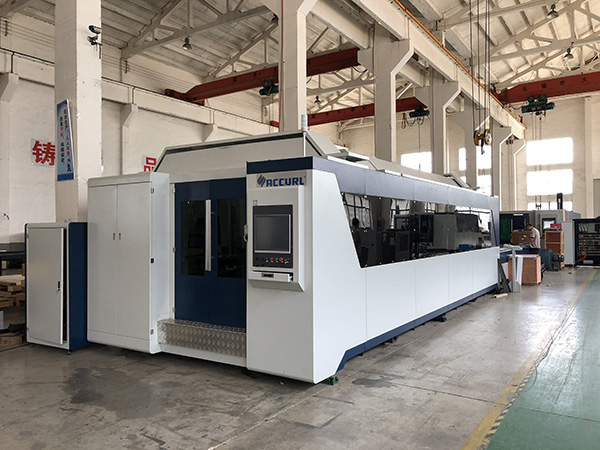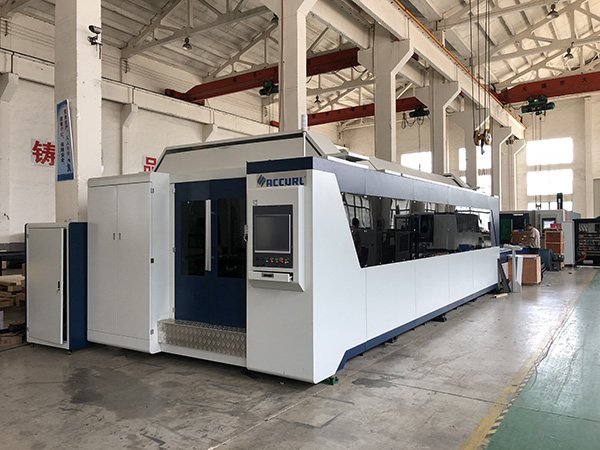 Műszaki adatok
---
Lézervágó gép
1.high power
2.high accuracy and long life
3.manufacturer directly
Introduce of Laser Cutting Machine
---
We produce different types of Fiber, YAG, CO2, laser machines. Our products line includes laser cutting, laser marking, laser engraving machines.
Applicable to different materials like stainless steel, carbon steel, aluminum, brass, copper, galvanized sheets and more metal materials.
Technical of Laser Cutting Machine
---
Travel Method

stationary table , Gantry style
Moving system
Servo motor drive ball screw
Guide
linear guide
Ellenőrzési módszer
X, Y,Z axis motorized controlled
Travel Amount
 X-tengely
1300mm                        1300mm                  1500mm
 Y-tengely
900mm                          2500mm                   3048mm
 Z-tengely
125mm
Acceleration Rate
 X-tengely
2500mm/s2
 Y-tengely
2000mm/s2
Axis speed
 X-tengely
800mm/s = 48m/min
 Y-tengely
600mm/s = 36m/min
Maximum Worksheet Loading Capacity
700kg
A gép súlya
2100kg                          2800kg                     3000kg
Repeatability Positioning Accuracy
0.01mm
Drive Feed Method
position control / AC servo motor
Machine Table Height
900mm
Cutting bed
Blade support -Sawtooth metal strip bed
Focus type
Automatic following focus
Power Supply ( only for machine)
380V 50/60HZ
Power consumption
30KW
LASER OSCILLATOR
Laser Oscillation Method
Lamp pump YAG
Lézer teljesítmény
650W
Stability
± 3%
Frequency
1-300HZ
Wavelength
1064nm
Single pulse energy
125J
Impulzus szélesség
0.3-10ms
Hűtés üzemmód
Close loop laser chiller cooling
CNC CONTROL UNIT
CNC Unit
Yaskawa AC servo motor
CNC Control Method
semi-close loop control
Control Functions
X, Y controlled (simultaneously controlled)
Input Method
USB, Ethernet, memory stick
Least Input Increment
0.002mm
Minimum Position detection Accuracy
0.002mm
Program Storage Capacity
128M flash memory in machine
Operating Modes
Windows xp support
SOFTWARE
Cutting software                                self-developed software
Nesting software                                Laser self-developed software
Support format                                  DXF,DWG,PLT,AI,DST,GLD
Product Description of Laser Cutting Machine
---
High quality 600w yag Industry cnc Laser cut tool on sale FLDJ-YAG1325 is the best laser cutting tool to cut stainless steel, mild steel, carbon steel, alloy steel, spring steel, iron, galvanized iron, galvanized sheet,
aluminum, copper, brass, bronze, gold, silver, titanium plates, metal sheets, metal plates, metal tubes and pipes, etc.
so our cnc laser cutting machine suitable for cutting kinds of metal.FLDJ-YAG1325 cnc metal laser cutting equipment has the feature of compact layout, stable optical link, operation convenient and reliable performance.
In addition the laser cutting cutter machinery also laser wood cutting machine price has the following features:
1 Contracture compact, small floor area.
2 Stability and reliability for light path system and control system.
3 Humanizing design, convenient operation.
4 High performance price ratio, low operating cost.
5 High cutting efficiency and quality, no noisy. Cutting speed is 100 times larger than the EMD wire cut. Small heat influence area, cutting seam smooth and no deformation, post treatment is not needed.
6 High precision serve motor, lead screw and guide ways imported ensure the efficiency and accuracy, increasing the stability and reliability greatly.
7 Suit many varieties of small, middle batch and mass production.
Stainless steel, carbon steel, aluminum, copper, titanium plate, etc.
After sales
---
1.1.5 years quality guaranty, the machine with main parts(excluding the consumables)
shall be changed free of charge when if there is any problem during the warranty period.
2.Élet nélküli karbantartás.
3. Ingyenes képzés a gyárunkban.
4.A fogyóeszközöket ügynöki áron biztosítjuk, ha csere van szüksége.
Napi 5,24 óra online szolgáltatás, ingyenes műszaki támogatás.
6.Machine has been adjusted before delivery , operation disk was included.
Gyors részletek
---
Alkalmazás: Lézervágás
Állapot: Új
Lézer típus: YAG
Használható anyag: akril, kristály, üveg, bőr, MDF, fém, papír, műanyag, Plexiglax, rétegelt lemez, gumi, kő, fa
Cutting Thickness: 0-20mm, 0.3-8mm
Vágási terület: 1300 * 2500mm
Cutting Speed: 0-150mm/s
CNC vagy sem: Igen
Hűtési mód: vízhűtés
Control Software: PC control system
Graphic Format Supported: AI, PLT, DXF, BMP, DST, DXP, AI,PLT,DXF,BMP,DST,DWG,LAS,DXP
Tanúsítás: CE, ISO, FDA
Vevőszolgálat: A mérnökök rendelkezésre állnak a gépek tengerentúli kiszolgálására
Type:: Laser Cutting Machine
Use for:: metal and non-metal
Laser power:: 600w
Transmission:: Ball screw from Germany
Guide rail:: HIWIN linear square guide rail from Taiwan
Custom:: CNC laser retrofit
Warranty::1.5 years
Focus type: Automatic following focus
akril lézervágó gép
,
lézervágó gépek
,
kis akril lézervágó gép
,
kis fa lézervágó gép